Along with visits to the Reef and waterfalls, Mission Beach now boasts two aquatic facilities, recently opened to the public! Read on if you are interested in swimming in our ocean, and would like to know where the stinger nets are located. These nets are surveyed every day by qualified surf life personnel, to allow swimmers access. Remember – if the red flag is up… then the beach is closed!

Mission Beach Aquatic Centre
Corner of Seaview Street and Cassowary Drive
The Mission Beach Aquatic Centre was made possible to to the funding of the Australian government, Queensland government, the Cassowary Coast Regional Council as well as the Mission Beach Aquatic and Recreation Club.
The Mission Beach Aquatic Centre features a 6 lane 25 metre outdoor pool, Lagoon, Children's Water Park as well as an Indoor Hydrotherapy Pool
Opening hours:                                                                                             
Monday to Friday : 5.30am – 6.30pm              Saturday :  8.00am – 4.00pm         Sunday:  10.00am – 4.00pm           

Pool admittance charges:                     $4.00 – adult
                                                                                   $3.00 – pensioner
                                                                                   $3.50 – for children
                                                                                   $2.00 – non-swimming spectator
Lagoon Cafe open daily 7am-2pm – Friday 7am to 6pm
🎄🎄CHRISTMAS OPENING HOURS🎄🎄
Our opening ours over the festive period will be as follows..
Monday 23rd December – 8am – 4pm
Christmas Eve – Closed
Christmas Day – Closed
Thursday 26th – 10am – 4pm
Friday 27th – 8am – 4pm
Saturday 28th – 8am – 4pm
Sunday 29th – 10am – 4pm
New Years Day – 10 – 4pm
All other days not stated will remain open with normal hours.
Have a great Christmas!
**PLEASE NOTE – IMPORTANT INFORMATION:

*The complex is a pet-free area
Contact details for the Mission Beach Aquatic Centre Manager: phone John. 0447 147 781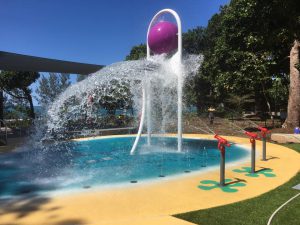 "Splash n Dunk" 
Reid Road Wongaling Beach
Opened in August 2018, this wonderful family friendly water splash pad has been well received by visitors and locals alike.Operating from 8.00am to 8.00pm, the automatic water park gives all a welcome break from the heat and the sea.
Designed and created by the Mission Beach Rotary Club, with local business support and expertise,  the "Splash n Dunk" is located on the beach front at Wongaling Beach, and is accessible to all.
Please adhere to the recommendations advertised at the facility…
photo credit Rotary Mission Beach  FB page
Stinger Nets
Uninet stinger enclosures are placed into our beaches to protect swimmers during the stinger season. Marine stingers can be found in North Queensland waters during the summer months, often from October through to May, and you can check the North Queensland Surf Lifesaving website to see whether beach swimming enclosures (stinger nets) are in the water or have been taken out.
When stinger nets are in place, you should only swim in the ocean if you are inside the nets.  Protective clothing is recommended.
There are stinger net swimming enclosures on the Cassowary Coast at:
Etty Bay near Innisfail

Kurrimine Beach

North Mission and South Mission Beach
Further south of Mission Beach, stinger net locations are:
Horseshoe Bay, Magnetic Island

Picnic Bay, Magnetic Island

Strand park – Townsville Strand

Rockpool – Townsville Strand

Pallarenda – Townsville

Balgal Beach

Forrest Beach
Further north of Mission Beach, Stinger net locations are:
Palm Cove

Clifton Beach

Yorkey's Knob

Holloways Beach

Trinity Beach

Kewarra Beach 

Ellis Beach