Beachruns@Mission – Cassowary Coast Multisport Club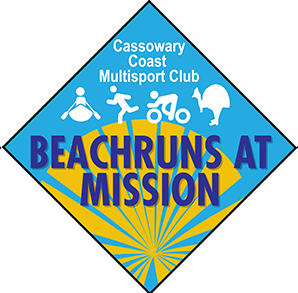 2020 will be the eighth running of BEACHRUNS.  Famous for all distances being run entirely on sand, that is the firm sand of Mission Beach, Queensland.
Location: Rotary Park – on the beach, Reid Road, Wongaling Beach
Date: Saturday 18th July'20
Time: Start frist run 02:00pm.   Event Presentations 05:30pm.
AGE GROUPS & DISTANCES:
Children (under 12), Youth (12-15), Open (16-34), Vets (35-49), Masters (50+)
5km: Individuals – All age groups (walk, run, strollers)
10km: Individuals – Youth, Open, Vets, Masters
21km: Individuals – Open, Vets, Masters
20km: Team relay: Female, Male, Mixed (min 12 years of age)
email events@ccmclub.org.au
BEACHRUNS @Mission started as a modest fundraiser and in 2019 there were 74 participants.  The fun continues in 2020 – see you there!
CORAL COAST FINANCIAL SERVICES are the proud sponsors of the 20km Corporate Challenge.
This is a relay challenge for teams of up to 4 to share the distance and the rewards of the day together. 
Local business and organisations are invited to take up the Corporate Challenge.  Start getting your teams togeather.   The 20km is split into 5km sections so you can have up to 4 runners in your team. Prizes will be presented to the winning Male, Female and Mixed teams.
Social teams are also very welcome and invited to join in the fun.
Entry Fees: The entry fees are modest with under 12's free in the 5 km event (with parents approval). A yearly highlight are the mums & dads pushing strollers.
Teams Register Now:  email for forms and team event pack events@ccmclub.org.au